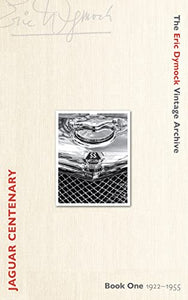 Jaguar Daimler Heritage Trust
Jaguar Centenary Book one 1922-1955 by Eric Dymock
Regular price
£20.00
£0.00
Unit price
per
Another Eric Dymock classic, first of his new Vintage Archive series, on Jaguar.

In colour, with model-by-model detail and a narrative history of successes and failures of Jaguar.

Jaguar made motorcycle sidecars for soldiers returning from the Great War. In the 1920s it made the stylish cars they then aspired to. In its centenary year, Jaguar's story is detailed in a new series of Eric Dymock's Vintage Archive.

Book 1 begins with creator Bill Lyons' 21st birthday, entitling him to sign company cheques for a fledgling partnership. The 1930s Brooklands set thought Jaguars infra dig with a feeble engine under an imposing bonnet. By the 1940s a classic marque with Grace Pace and Space, Jaguar was a symbol of speed and style. The XK120 was pre-eminent and C-types, now prized by collectors, won Le Mans. Book 1, on sale as both a paperback and eBook from November 2021, takes us to the middle 1950s, Jaguar riding the crest of a wave, Bill Lyons about to become Sir William.

For 60 of those 100 years, author Eric Dymock has been chronicling Jaguar, road testing them at The Motor, The Autocar, The Times, The Observer, The Daily Telegraph, syndicating features throughout Europe. Jaguars featured throughout his 13 years as Motoring Correspondent of The Sunday Times, leading to the publication of three editions of The Jaguar File in his classic File book series with Dove Publishing from 1999 onwards. Jaguar Cars confidently distributed copies world-wide to journalists at press launches. Head of Design Ian Callum recommended its research; Jaguar used it to prime new staff. The Eric Dymock Vintage Archive expands and updates a lifetime's experience and research into The Jaguar Centenary Book One 1922-1955.
---